"We have moved to our new domain. You are being automatically redirected. If you are not redirected in 5 seconds, please follow this link: "www.spacebarproductions.com"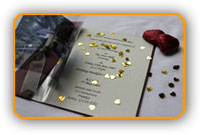 From the moment your guests receive your invite, the date should be set in their calendar to expect a fantastic and memorable time.
We complete the day by providing an entertaining and modern reception party for your wedding reception unlike any other. You can be assured that we will guarantee to play all the music you select. It's not just about being on the dancefloor- its about getting guests to stay right till the end!
Your wedding is the best excuse to organise the day of a lifetime. By selecting and choosing the right entertainment to work with you, we can assure you, your event will capture and hold your guests attention and keep the wedding buzz and excitement throughout your day. With all the effort and time it takes getting all your important people together - of all ages to have a "great time", being entertained and to finish of a fantastic day with a "memorable party"
We believe you will not find a more complete service to finding a fun and memorable wedding day on the web. We are not pub DJs, Radio DJs, Club DJs, Kids party DJs nor cheesy DJs- we are professional and experienced wedding specialists and your efforts to get lots of very important people together in one place only happens once so let us entertain them.
If you are looking at saving money on your wedding day, then please take the time to look around, evaluate and see if we are what you are looking for.
Please do take the time and review what our previous wedding couples have said about using our services before, during and after their event.
"Your wedding only happens once, make it one guests 'will' remember"

| | | | | |
| --- | --- | --- | --- | --- |
| | Show you how we can get guests spending less time in the bar & more time on that dance floor! | | | Cleverly mix and play music chosen by you and have it aimed for all ages of guests to enjoy. |
| | Pace the evening from the 1st dance right to the last dance including expected family traditions and proper etiquette. | | | Show you how we can inject fun and excitement to build a professional and entertaining night of fun. |
| | Show you ideas and tips to get the most from your day and how guests will want to still continue partying. | | | Share secrets on throwing a fantastic reception that will pull at heartstrings that guests will remember forever. |
| | Audio & Video solutions that help you with your Civil/Church Ceremony, Wedding Breakfast and reception. | | | Present a high quality sound and lighting experience that won't look out of place on your wedding day. |
| | | | | Plus much more... |

"BOOK EARLY TO AVOID DISAPPOINTMENT"
We provide unique wedding services that you will not find anywhere else on the web
at reasonable prices, unfortunately we only have a limited number of dates per year.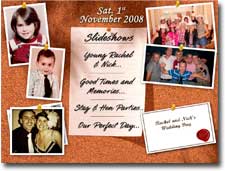 Been to a wedding that seemed just like the last one you attended?
or
Are you looking for something sophisticated, up-market and modern for your day?


One of the great things about digital photography is the immediacy of it as a medium. One of the fun things that we've played during your reception is the photos from the wedding day. It's a great recap for you (as the day will just fly by) and great for your evening guests too as they won't have missed out on the events earlier from the day. It adds a fun element to the night.
After all the effort that your guests will be making to come to your day, we provide unique entertainment and alongside your music, we specialize in building professionally created slideshows for your wedding that reflects your story with your guests and your wedding day.
The galleries on the right are all the photos that were shown at those receptions (and downloadable for free for all guests afterwards - Click to see what we give back to guests.

Professional & Entertaining: With our unobtrusive sound and lighting systems, brilliant confetti effects and our enthusiasm, we'll work with your music on planning on delivering a great atmosphere! designed just right for your event!.
Digital touchscreen Jukebox hire : If you are on a budget, yet still want a great party, take a look at our innovative touchscreen jukebox system - the iDJ pack. A complete system that allows your guests to be the DJ and allow them to plug in their music requests. Ideal for house parties or working alongside bands. No need to pay extra for a DJ but have full control of the music and a great sound and lighting system to go with it. Perfect for an Ipod Wedding.
Fantastic Photo Montages: Family slideshows as well as your wedding pictures of the day! played at your reception party will ensure all guests in evening (as well as those in the day) will all have a memorable time at your party. We can work with your photographer, a nominated guest or even choose our photography services for your day.
Music for everyone: - From helping you with ideas of your 1st dance to music throughout your party. Our priority is to play your music. We have skills to be able to mix & play tunes for all ages of your guests, be it from the 50s, 60s, 70s, Disco, Motown, 80s, Rock, Indie, 90s, Pop, Dance, RnB, Indian and Club music - anything you want right through to last weeks chart.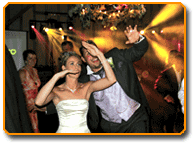 90% of the music that we play is "all your choice" We do not use the same old wedding dj set that many dj's tenjd to use and we appreciate everyone has their own tastes so we work with you to understand "your tunes". Of course, if you prefer us to take more control - it's up to you!
Planning & Advice: - Your own wedding consultant?
All our packages come with FREE venue and event planning. We can help you with planning and audio/video solutions for your civil or church ceremony, wedding breakfast and evening reception.
With plenty of advice and as many consultations as you wish, it's a great chance to discuss any part of the wedding day & reception you wish. We'll help with wedding etiquette and running of the day as well as provide information so you get the most from all your wedding vendors.
Guests Video Diary Room: A modern interpretation of the traditional wedding guestbook, but allowing your guests to leave personal wedding messages for you! Great way to capture thoughts, emotions and wonderful messages left by your guests.
Video Solutions: Let us save you money and expensive video costs by editing your guests video material or providing video services tailor made for you. From playing music to video recording the civil ceremony, wedding breakfast, speeches right through to the evening reception and special video montages. We will be able to provide you with professional wedding DVDs that will be personal and last a lifetime.
Photography Solutions: - Opt for one of our photography combinations and discover how you and your guests could be able to see the pictures of your wedding day "on the day" in a stylish and informal way.
Fun, Fun, Fun: - If you're looking for experience, credibility, reliability, integrity and value!then you've found the right team to make your event a success. With wedding planning, DJ, Videography & Photography. Imagine all four services working closely together in your interests to produce a smooth running day, fantastic photos, lasting memories and complete entertainment with your guests.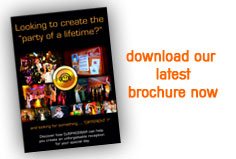 Imagine the last time you went to a reception party....
All of your guests will have spent time & money coming to your day - we can make it a great atmosphere for them to really enjoy themselves and stay right to the very end of the party. We guarantee guests will come back to you afterwards and tell you it was ...
"the best reception or party they'd been to".
Please do take a look to see what our previous clients have had to say about our services and view our picture gallery as well as some video to evaluate if our services could be right for your event. Your reception is a once-in-a-lifetime event with hundreds of important guests coming all over the country/world, coming together for you in one place, that might not happen again so make sure your event becomes a successful one!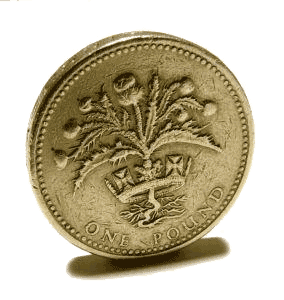 Our reputation is built on quality not quantity and our services are tailored to your needs.

Your Wedding is a mini production, a romantic day ending with a memorable party.
Guests have expectations. You have dreams.
You want it all to be "perfect"
Here are some areas that DJSPACEBAR do differently which could help you with your wedding day - it only happens once and just like you, hiring the professionals, you'd want to expect real value and service for your money - especially in the current economy.
As you may have not been married before, it may seem quite daunting organizing your wedding. Our initial consultation with you will allow us to listen your plans, provide advice and understand the flow of your day - we presume you'd maximum benefit and not overrun. With our experience, we'll work to provide a solution below that fits your requirements.
If any of the the four services below are working together, the beauty is that you have one-point of contact to help you throughout your event. It works as you can see from other couples who were interested in using our services
Wedding Planning
● A non-obligatory consultation means you get free tools & resources for your planning ●
● Give you a head start, ideas to help you take the stress out of organising your wedding ●
● Share secrets with you that will prepare your guests for a great time on your day ●
● Provide you with aspects of wedding protocol planning for the ceremony, wedding breakfast and evening reception parts of your day ●
● We'll provide unlimited time for meetings and visits ●

Photography
● Wedding style Photos depicted by you ●
● Wedding Photos taken on the day to be shown at the evening reception ●
● Digital images uploaded to our site then provided free to all guests within 48hrs ●
● You keep all Digital files (if DJSPACEBAR are taking photos)●
● Allow us to work with other photographers (guests or professional) ●
● Flexible packages that help save you money ●

Videography
● Photo Images used from the wedding day merged into final editing of video ●
● Video Diary recording to allow guests to leave personal messages for you ●
● All original DV tapes are provided back to you free of charge ●
● High quality HD video camera and equipment ●
● All music used during the wedding day and reception used in the final wedding video ●

Wedding Reception DJ
● Childhood and memories slideshows used to appeal to all guests and family ●
● professional planning of the day with 95% of all music that you choose ●
● Entertaining wedding receptions that will make guests want to stay longer ●
● Not the cheesey disco you might be expecting, our lighting/sound systems shows elegance ●
● We provide entertaining wedding receptions that will make guests want to stay longer ●
and much more...


All of our clients have wanted elegant and modern wedding receptions!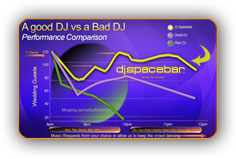 We have done our best to provide flexible and tailored packages to suit our clients needs and their budgets. We are not an agency nor employ the services of a Party/Wedding planner, Videographer or DJ. You have a constant point of contact and your event is personally managed and handled by ourselves.