Please review the areas that we cover in our map below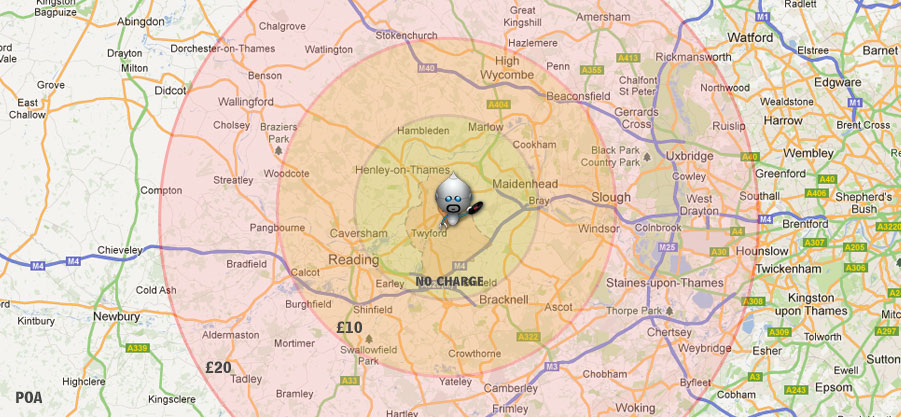 Covering Berkshire and surrounding areas, we deliver, setup and collect for free if it's within 15minutes of RG10. Further locations and distances will incur an additional charge.
We have thousands of tracks with different genres of music to choose from. We always discuss the type of party and musical preferences you like. Here you can pick up the songs for your party and create your own play list and send it over to us so we can put it into a cool funky playlist that will work at your reception party to us. Hover your mouse below and take a look at popular song genres to give you some great ideas.
[COMING SOON] CSS rotating boxes to go in this place
Looking for a party mix that will suit everyone, just contact us with your requirements and we'll create a playlist for you.
We have put together the list below to help make selecting a suitable system for your event an easy task.
Each package can have extra items added at a discounted rate, such as extra speakers, lighting, lasers, bubble machines, plasma, projector equipment and screens. All of the equipment is from trusted, industry standard brands and is in many cases higher than industry standard so you can be assured of a high quality sound and spectacular lighting. All of the systems come with iPod/mp3 player/laptop connecting cables.
Please note that the prices include delivery, set-up and collection which will vary depending on location.
iDJ kids

iDJ 40

iDJ 80

iDJ 120

iDJ 200

Suitable for events...
childrens parties between 10 to 30 children
for small house parties and most celebrations
for medium sized house and garden parties and celebrations inlcuding anniversaries and weddings
for wedding parties, celebrations, corporate events, proms, christmas parties.
for larger wedding parties, celebrations, corporate, proms including xmas parties
Guest Count that system can handle
upto 30 guests
30 to 50 guests
50 to 90 guests
90 to 140 guests
upto 200 guests
hrs usage
2 - 3
4
4
4-5
5
# lights in pack
[ 3 ]
Sweeper, Starball, Glo uplighter
[ 4 ]
Sweeper, Starball, Glo uplighter, x2 LED uplighters
[ 4 ]
Sweeper, Starball, Glo uplighter, x2 LED uplighters
[ 7 ]
Sweeper, Starball, Glo uplighter, x2 LED uplighters, x2 NJD Datamoon lights
[ 7 ]
Sweeper, Starball, Glo uplighter, x2 LED uplighters, x2 NJD Datamoon lights
microphone
wired
wired
wireless
wireless
wireless
haze/smoke machine
Sound system
BOSE Compact
BOSE Compact
BOSE Standard
BOSE Standard
BOSE Professional
glo-sticks
+£15
playlist development
wedding planning toolkit
onsite DJ
+£25ph
+£25ph
+£20ph
+£10ph
PLI (public liability insurance - 10 Million)
extended iDJ mood lighting
+£50 (2 pack)
+£150 (6 pack)
+£100 (6 pack)
+£100 (8 pack)
Please enquire if you would like to customize a specific iDJ pack that matches your event requirements...
We have designed the iDJ specifically around entertainment events.

Below is a list of features built into the system so that it's designed to look great at your party, play your music and be as simple to use as possible!
Search for your favourite songs using the touch screen keyboard
The jukebox can be customised to how you want your guests to interact with it
Guests can add their requests to the playlist OR you can LOCK it down
Stop people from hitting "play next" or bumping/removing tunes of the playlist
Thousands of tunes from all the decades right up to last weeks chart
15 years of real song requests by guests in several categories from real parties
Let it just play? - AutoDJ mode selects tunes from the top 200 selected songs (from real 200,000 customer and UK DJs music requests) from the last 12 months songs and also most purchased tunes from Itunes
Add & remove songs to the playlist live whilst the music is playing so it mixes them in
The song list can be setup to play 1 song or unlimited tunes (Auto DJ mode)
Specific songs? - we'll purchase the music and have it ready ready before your event
Different sections of your playlist can be played at different moments, first dance, father/daughter dance, wedding meal, specific music sets etc
The iDJ cleverly mixes from one song to the next so it's a seamless mix and won't stop people dancing on dancefloor
Artists and Song tracks can be searched for on the on-screen keyboard
Customised playlists can be designed by us for you
Have the ability to instantly bring your song set up to mix into the playlist on the night
Perfect for working alongside bands or primary form of entertainment
Simple and cheap - 100% guests satisfaction
BAN songs that you don't want to hear at your party e.g 'explicit', specific tunes to even specific genres like ''cheese?'
The iDJ can make professional announcements like an MC would. Performing the same services a human DJ would usually carry out - master of ceremonies, lead guests to the dancefloor, announcements during the party, tell everyone the night is over - of course you can turn him off too
'Everyone wanna be a DJ mode' which allows you (or friends) to become DJ for the night with music scratching and mixing for the party. No need for your friends to lug heavy sound and lights around
DJ consulation included - let us take your music requests and put them in a DISCO order that a DJ would be playing as if they were there at your event
Here are some highlights of iDJ vs an iPod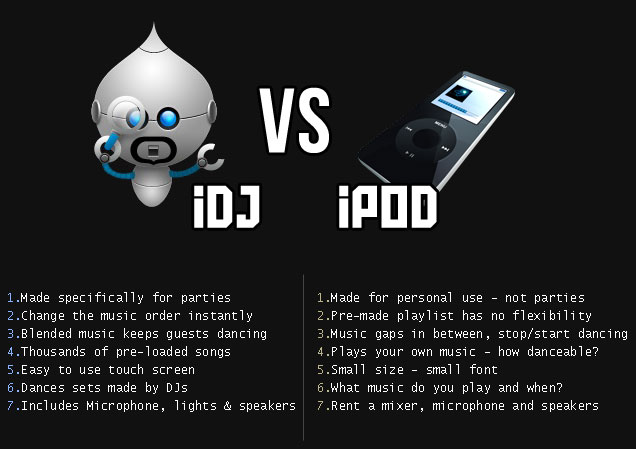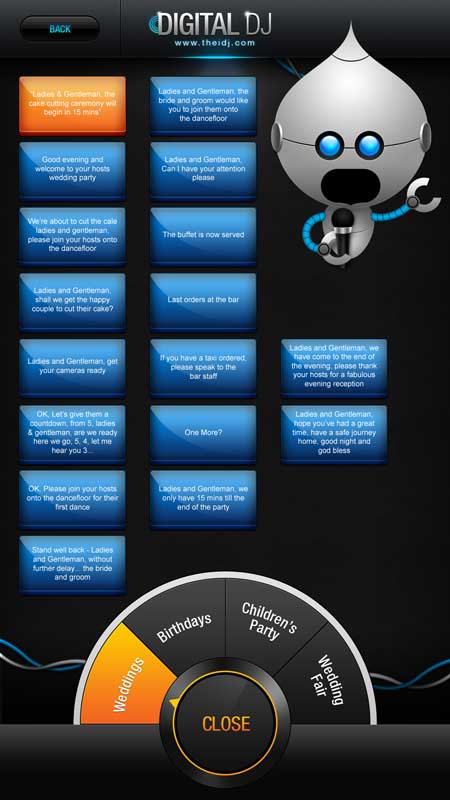 YES - if you choose to, you can have the iDJ make announcements for you and be your MC- the iDJ can announce and walk through the first dance and cake cutting, make annoucements for the buffet and even close down your party like a professional DJ would.
Our wedding iDJ 80/120 packs includes a human DJ for FREE for the first hour of your wedding reception, examples of announcements made by the Digital iDJ include:
- Ladies and gentleman, the cake cutting ceremony will begin shortly...
- Good evening and welcome to your hosts wedding party
- We're about to cut the cake, please join your hosts onto the dancefloor
- Ladies and gentleman, the bride and groom would like you to join them onto the dancefloor
- The buffet is now served
- Last orders at the bar
- Ladies and gentleman, we only have 15mins to the end of the evening
- Hope you've had a great time, have a safe journey, good night and god bless.
.......and many more
Of course, you can choose to switch this off if you wish, maybe you might have someone in your party who wishes to make announcements? the above is for parties who require assistance with making public announcements.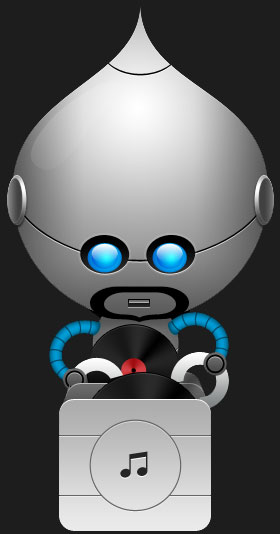 Whilst the iDJ will never replace a human DJ, the iDJ is designed for customers who do not wish to hire an expensive DJ or avoid the hit and miss when hiring a mobile DJ. Some examples below of why the iDJ might suit your event.
The iDJ....
- the idj won't badger or irritate your/guests into getting up to dance
- the idj will play your music not a repeated wedding set
- will listen to your instructions and you set the rules on what it can play or not
- with your help means that you set the tone of your event
- will take your playlist and create a music set that works for everyone
- the iDj will turn up with a cool looking and modern sound and light system that won't look out of place at your venue
- the iDJ doesn;t play the same old playlist - like resident Dj's would

Q: Building your wedding playlist...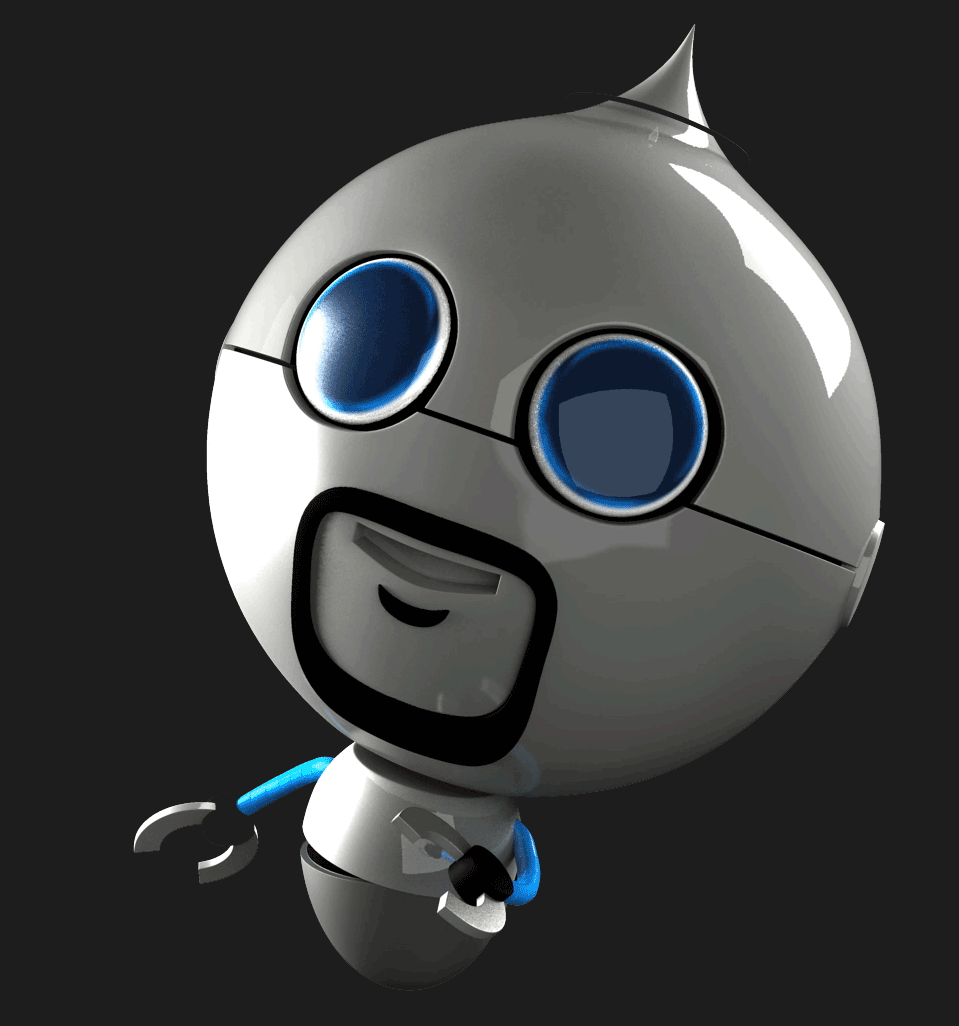 We are here to help you with making your wedding reception run the way you wish. When building playlists with you. You can send over your tune choices, playlists or spotify playlists.
At the time of booking, to help you with music choices, we will help you with your music choices by providing a top 200 of the most popular music choices as chosen by previous clients on the iDJ. We will also provide some ideas to help you create fab party mixes for your party.
A typical idea of how much music you need: 1 hour will have around 20 tunes that will likely be played so for a 4 hour event, you are looking at around 80 tunes.
You have complete control of the iDJ and music so when a booking is made for your wedding reception, here is what we require in your final playlist./strong>
- Pre-1st dance songs (these are songs that are played when the iDJ is setup and before your 1st dance). You would be looking at around 10 tunes (30mins).
- 1st Dance (your absolute must-have song to start your party) 1 tune.
- Kick off Song - What song would you like to start after your 1st dance and start your party.
- Your Playlist - this can be sent to us in any form - text document, excel spreadsheel, scanned photocopy, notes from your phone or your spotify playlist.
- Any special requests (father/daughter dance, Stag & Hen songs, any special songs
- How you would like to end the party? - 4 songs
- What is the final song of the night? 1 song - this is the absolute final song before the venue allowable close period.
Once we have all the above, we'll come back to you with a playlist that you can review, amend and change around before the start of the event. We are always on hand to make your event a success.
Q: Can you do iPod Weddings ?
Yes, we can supply equipment and all you need for your iPod Wedding Our sound systems have specilist iPod inputs allowing your ipod to be docked or connected and played. You will be able to choose how small or large youd like your sound and lighting systems. You can even have an onsite engineer to setup and collect for you so you don;t need to worry about the equipment not working, setup correctly, ownership etc.
please don't hesitate to contact us
We're happy to help and answer qny questions you have, please don't hesitate to contact us