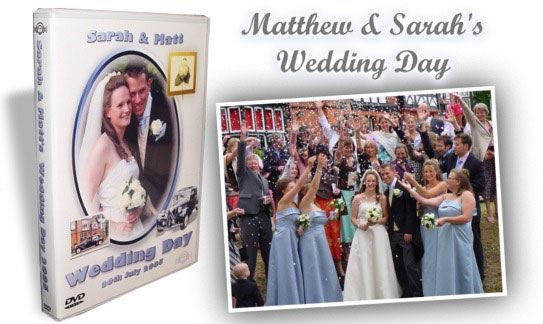 Matt & Sarah was recommended by Sarah's brother who was an usher at a friends wedding whom we performed at and passed on our details so we could understand the requirements of their wedding day.
Matt and Sarah were having their wedding in a large marquee. We worked with Sarah's dad to advise on marquee space and sizing. One of the requirements of the day was that we arrive in the afternoon to play dinner background music and of course be ready for the evening reception. Matt and Sarah also wanted to have a video option and we recording video material of the evening which we then compiled as part of their DVD.
Check out the package that we designed around their budgets....
They opted for a custom package:

Full Disco & Slideshows

plus

Extended Silver DVD Option:

Wedding Opening Sequence

5 Photo Montages including Honeymoon slideshow

Wedding DVD Packaging

Reception Video Highlights

| | | | |
| --- | --- | --- | --- |
| | | Matt and Sarah's Wedding Invite sent to around 200 guests. DJSPACEBAR used this style throughout the wedding day slideshows. | |

When the disc is inserted into the DVD player. Along with the first dance music is the opening wedding invite sequence. The opening sequence plays the tune used at the first dance and details of the wedding invite as if you were reading it.

| | | | |
| --- | --- | --- | --- |
| | | Wedding invite opening sequence | |

The Opening sequence shows a menu allowing you to select 2 options.

Option1- The Photo library or Option2 - the highlights of the wedding reception. We started recording from the first dance to the end of the evening and edited the material into a 35min video which summarised the evening reception.

Option1: This shows the slideshows shown at the reception BUT on the DVD we also asked Matt and Sarah to share with us their honeymoon photos and we merged it in their final wedding DVD.
This was the final cover of their DVD package. It contains the colors, style and important pictures of the wedding. Its a memorable package designed to last forever, we build a package so that when Matt & Sarah pick it up in future years, they will be able to remember the great memories they had from their day.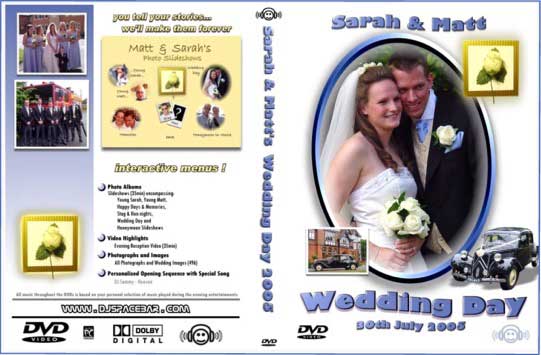 :: Customer Testimonial ::

First of all, a massive thank you from all of us for all your help last Saturday. Against all odds, you guys made the evening really special - thank you. I know how hard you two had to work to get things up and running but, despite working with wet feet all evening, as soon as you started, the evening really came alive and the slideshows went down a real treat with so many of the guests who had no idea of what was coming. We really enjoyed it all - so a really heartfelt thank you for everything from first to last.

Matt & Sarah
from the Brides Mum and Dad....
This is to thank you so much for a fantastic disco, slideshow etc. You and Kamaran were absolutely terrific and given the very difficult circumstances (rain filling the marquee), you kept an extremely professional manner and attitude throughout. You managed to put on a show that everyone enjoyed and appreciated. We have had many comments about the great disco and slideshow. If you need a reference at any time in the future, please feel free to use our name and once again, thank you so very much for everything.
Ian and Val