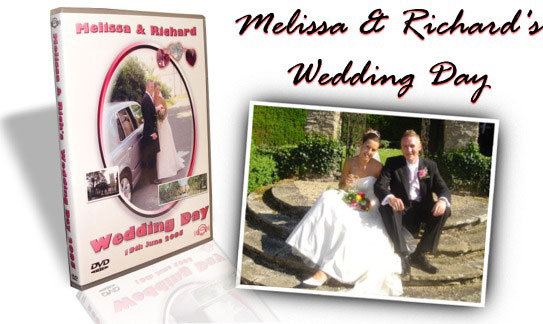 Melissa & Richard saw us perform at a friends reception and they liked how we played music, interacted with the audience and displayed custom slideshows throughout the evening.
They approached DJSPACEBAR to see if we can enhance their wedding reception and build a custom package suitable for their requirements and budgets. Check out the package we devised for them and the final DVD product....
They opted for a custom package:

Full Disco & Slideshows

plus

Extended Silver DVD Option:

Wedding Invite Opening Sequence

4 Photo Montages

Wedding DVD Packaging

Guest Internet Access Cards

| | | | |
| --- | --- | --- | --- |
| | | Mel and Rich created around 150 wedding invite cards that were sent to guests. It's great fun making your own cards and depicted the style and colors they wanted for their wedding day. DJSPACEBAR used this style throughout the wedding day slideshows. | |

When the disc is inserted into the DVD player. Along with the first dance music is the opening wedding invite sequence.

Mel and Rich will most likely forget the effort they put into building 150 cards for their wedding. DJSPACEBAR tried to reproduce this digitally so when it gets viewed in 5 or 10 years time. You are immediately bought back to what your invite looked like

| | | | |
| --- | --- | --- | --- |
| | | DVD Wedding Invite opening sequence. | |

The Opening sequence then merges into a menu which allows Mel and Rich to select photo montages.

We showed 4 slideshows with their favorite music at the evening reception and we recreated the slideshows for the DVD.

Total time for all slideshows = 30mins
This was the final cover of their DVD package. It contains the colors, style and important pictures of the wedding. Its a memorable package designed to last forever, we build a package so that when Mel & Rich pick it up in future years, they will be able to remember the great memories they had from their day.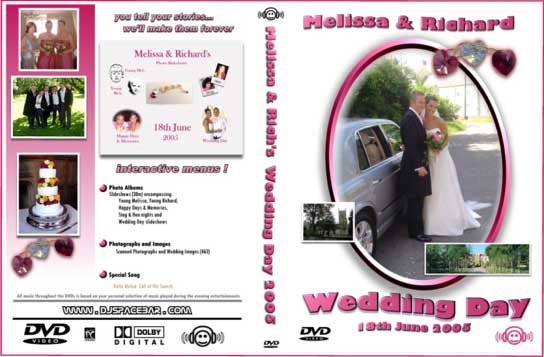 :: Customer Testimonial ::

What can we possibly say....apart from the biggest Thank you ever! you guys are fab! From our first meeting you assured us that our wedding entertainment would be perfect & it certainly was.
On probably the hottest night of the year, you got everyone up shaking their thing. The slideshows really did surprise everyone much to their delight, our guests are still talking about the "interesting" hairdo's now!. We really can't thank you enough for the professional & friendly service you provide - you really do go the extra mile to ensure everything runs smoothly.
You & the team helped make the day the happiest day of our lives and we had no stress at all, which meant we could enjoy the day and night to its full. I would imagine that you are going to be very, very busy as many of our friends & family wanted your details. We look forward to seeing you soon, we seriously can't thank you enough.

Melissa & Richard.