To Ipod your Party or not?

DJSPACEBAR speak to lots of folks enquiring about their equipment for their party. Some folks also asked us opinions on using their personal MP3 Players or IPODS for their event. The article below will show you some information on how to connect your ipod to a sound system.
DJSPACEBAR can assist as well as provide all the necessary equipment required for your party including lighting. Depending on location - please take a look at our iDJ package for further information.
We have also been invited as guests at Ipod Weddings and Party and we also share our experiences with you (from a guest point of view). Its helpful information to consider for your party.
Connecting your Digital Music player (laptops, Ipods, mp3 players etc):
One of the truly wonderful things about having your own jukebox is that you can control and programme it to your playlist and a simply hook it your sound system. Just get all your favorite tunes together, create a play list and plug it into the venue sound system. You can connect an Ipod to a external stereo system. The ipod has a mini amplifier (60mW) built into the unit and you will need a Headphone-to-RCA converter.
The headphone socket plugs into the Ipod and the RCA part goes into the Amplifier, you will be able to get this from most electronic stores for £5 and this what the converter looks like. The Ipod connector is a 3.5mm headphone jack and the amplifier connection is called an RCA connection.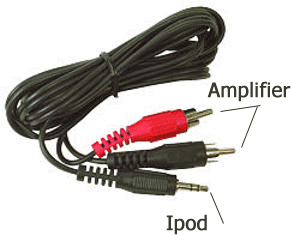 For optimal sound quality when using external speakers, set the iPod volume at less than half the maximum output and adjust your listening volume through your stereo controls. This prevents over amplification, which can cause distortion and reduce audio quality.
You will need an appropriate amplifier and speakers for the size of your room. For House parties, you should be able to connect it to you home stereo surround system with minimal effort. For a venue or hall, you will need to hire a PA or sound system.
Depending on the event, there are pros, cons and some risks that's worth mentioning. Here are the areas that are worth thinking about.
- Cheap
- Ability to control the Music yourself
- Hiring
- Musical Atmosphere
- Lighting
Cheap: Let break down the essentials you would need for your party. DJSPACEBAR offers an IPOD Sound Reinforcement package.
a) Ipod (yours)

b) Amplifier, from £50 to hire

c) Single Speaker/PA System, from £50 to hire

d) Lighting, from £25 per light to hire.
Hiring
You will need to spend time (about 1hr) on the event date to go and hire the individual parts of the equipment for the party. Its best to assign this task to someone in your party to do this for you so you can concentrate on other parts of the party. When hiring equipment, the usual forms of identification that will be required is 2 forms of proof - a utility bill and driving license is adequate. The company that you hire from will usually test and provide instructions to you on the operation of the item. Make sure you that bring a large enough vehicle to transport the equipment too and from the venue in. Please contact us if you are interested in the iDJ Package for your event.
Musical Atmosphere.....Ipods are machines who don't have the ability to change music at a whim if something is not working.
References:
Ron Grandias article - Any Plans to iPod Your Wedding?

Youtube Video - Ipod Craze - Using an Ipod at your wedding